Duct Cleaning
Professional duct cleaning offers many benefits, including improved air quality, cost savings, and extended equipment life. Proudly serving Jacksonville and surrounding areas since 1957, Hammond Heating & Air Conditioning specializes in effective duct cleaning. Our factory-trained and certified technicians utilize proven processes and advanced technology to remove contaminants that negatively affect your health, comfort, and the operation of your HVAC system. Through extensive experience and expertise, the specialists from Hammond Heating & Air Conditioning protect your ductwork from damage and ensure greater return from your investment.


DUCT CLEANING & DUCT CLEANING SERVICE
JACKSONVILLE, FL, MIDDLEBURG, FL, FLEMING ISLAND, FL, PONTE VEDRA BEACH, FL, MACCLENNY, FL & DOCTORS INLET, FL AND SURROUNDING COMMUNITIES.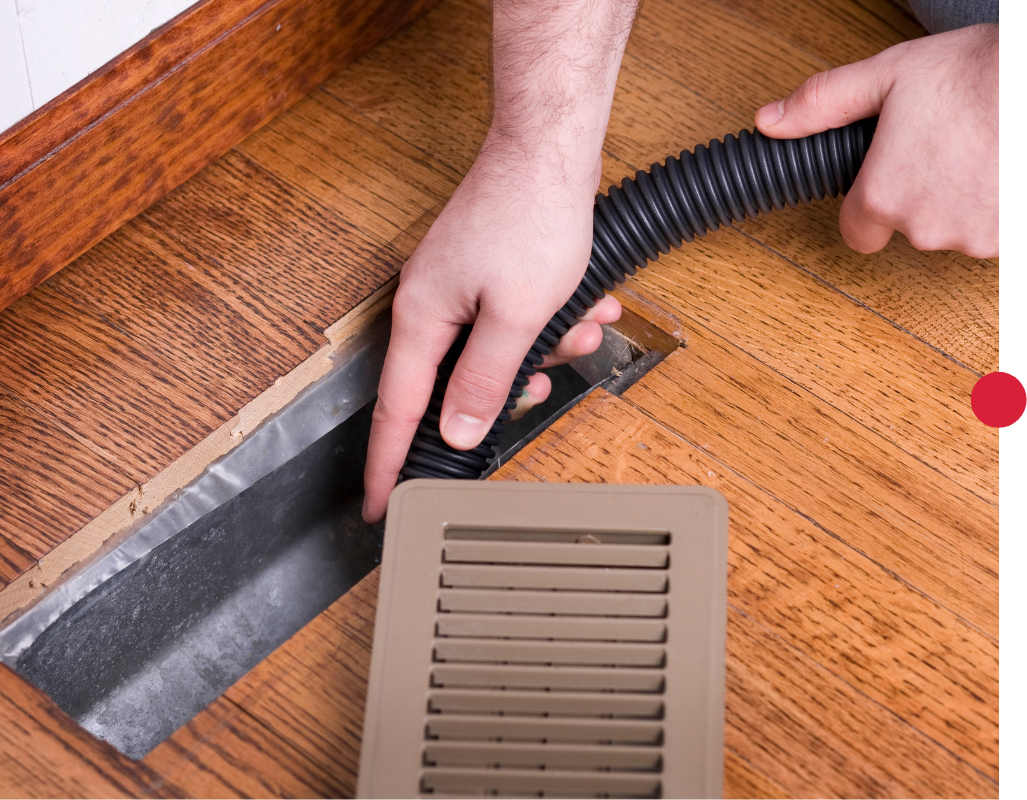 Breathe Easier with Professional Duct Cleaning!
As your heating and cooling system operates, it draws in airborne pollutants into the duct system. If it's been a while since your last duct servicing, it may contain dust, mold, dander, pests, debris, and more, even decomposing rodents. These contaminants can worsen allergies, asthma symptoms, and respiratory issues. Trust Hammond Heating & Air Conditioning for clean, healthy air. We remove harmful particles and ensure they don't circulate in your indoor environment, providing a more comfortable, healthier living space.
Experiencing high utility bills or discomfort? It might be your ductwork. Accumulated debris forces your HVAC system to work harder, causing wear and increased costs. Hammond Heating & Air Conditioning's duct cleaning professionals will optimize your system's efficiency, even offering remote video inspections for transparency.
Have you noticed excessively high utility bills or less than ideal comfort levels? If so, it could be a problem with your ductwork. When debris is allowed to build up in your duct system, the HVAC system has to work harder to achieve expected comfort levels, leading to wear and tear and increased running costs. Hammond Heating & Air Conditioning has a team of duct cleaning professionals, offering duct cleaning services to help your HVAC system operate more smoothly and efficiently. Through remote video inspection cameras, you'll even be able to see firsthand how clean your duct system is.
FOR DUCT CLEANING SERVICES AVAILABLE FOR JACKSONVILLE AND SURROUNDING AREAS, CONTACT HAMMOND HEATING & AIR CONDITIONING TODAY!
Hammond Heating & Air Conditioning is well-known for our dedication to customer service. Just doing the job isn't good enough. We hold ourselves to higher standards in order to ensure a rewarding start-to-finish experience. Every project is important to us, and we deliver outstanding results through our unwavering attention to detail. Our team of dedicated professionals do not disappoint. We arrive on time, fully equipped to handle the scope of the job, and leave no mess for you to deal with. Drawing from extensive experience and training, we expertly handle every challenge and implement proven strategies to achieve superior efficiency, comfort, and indoor air quality. When you contact Hammond Heating & Air Conditioning for duct work cleaning, you are in very good hands. We've built our business on honesty and integrity, and continue to find new ways to exceed your expectations.
DUCT CLEANING SERVICE MACCLENNY, FL & DUCT CLEANING SANDERSON, FL
DUCT CLEANING SERVICE ∴ DUCT CLEANING ∴ SANDERSON, FL ∴ MIDDLEBURG, FL ∴ DOCTORS INLET, FL
OUR GOAL IS YOUR HAPPINESS | GREAT FINANCING OPTIONS
WITH APPROVED CREDIT. CALL OR CLICK FOR DETAILS.